Data entry jobs are among the easiest and quickest way to earn money today. What make these jobs very appealing is that you can do it online. You can actually do these jobs anywhere you are and any time of the day as long as you have an internet connection and a working computer.
What are data entry jobs? Why do many people want to have these kinds of jobs? What makes these jobs very advantageous? If you want to learn about data entry, then this discussion is what you need.
Data Entry Work Description and Duties
Data entry jobs would require a person to type or input data into a database. A data entry clerk or operator would have to manage data or information in a company or companies. These data or information could be that of the company's activities, projects and all the other important information written on papers or documents. Moreover, aside from typing, work from home jobs also include data conversion, image indexing, image scanning and data processing.
Where can You Get the Online Job
There are several industries that require transcription or put up data entry job listings. You have the field of medicine, customer service, insurance, accounting, marketing and many others. Essentially, almost all companies present today provide home based jobs.
Many companies today employ offshore data entry clerks or operators for the reason that it is much cheaper than hiring office employees. Data entry jobs done online, away from the office or at home do not require companies or employers to set up offices or provide equipments for their data entry employees or staffs. Furthermore, those who do these jobs online or at home are proven to provide the same quality of work or output as the ones who do the work in the office.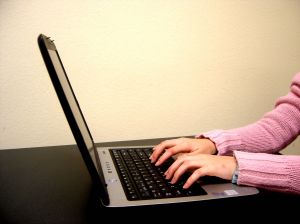 The Requirements for Data Entry Employment
The best thing about online data entry jobs is that these jobs do not need any kind of degree for you to do them. Even high school students can do those kind of jobs. Nonetheless, it is an advantage for you if you have a degree because many companies prefer those who have degrees to be sure they get quality work.
Moreover, if you want to do legitimate data entry jobs, you need to have a good command of the English language and you have to type fast as well. In addition to that, you need to be good at paying attention to details. This is very important since you need to input sets of data or information that are very crucial to the company. You need to input correct and flawless data or information as much as possible.
Data entry jobs are very good paying jobs online, and if you continuously provide good services, there is a possibility for your salary to increase. If you were to do any of these jobs, be committed to it. Your hard work will be paid off in no time if you do this. So if you want to start earning money now, learn as much as you can about data entry, about how you can be good at doing these jobs and how you can find the best jobs online.
Looking for something else?